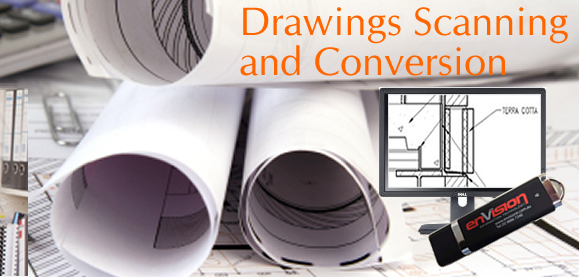 High Quality and Professional Drawings and Manuals Scanning and Printing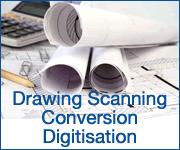 Plan Drawing Scanning, Copying, Printing, Digitising and Conversion Services in Melbourne - Pick Up and Drop Service, All Melbourne
SellCAD offers you easier drawing management through its drawing scanning and conversion services. We pick up and drop your drawings for Scan, Copy, print, Digitise, Convert drawings from one format to another to usher in ease of use and / or apply secure access. Fully insured, our Services suit Small to large customers.
For Drawing Scanning and Conversion tasks for Defence, Aerospace and Strategic sector, please visit this page>>

SellCAD is now proud to have tied up with CAD/CAM Services, Inc. US for providing, efficient and high quality drawing conversion services most economically.
Organising drawings and manuals is more important than scanning!
Scanning is easy and anyone can do.. However, organising the drawings and manuals is much more important. Well organised documents are easy to use and find in times of need.
Our professional scanning process involves high quality scans followed by individual page checks and naming them as per organisation specific nomenclature. At times, we may add key words for easy search. This one time effort saves our client time every day.
End result of our scanning process is a well organised document, easy to search and use.
Scan, Save and Future-proof your drawings and documents such as Manuals
Unknown to you, drawings may be literally gathering dust, mites or just getting spoilt with moisture or gases! It may not be easy to find them when you need and difficult to print. By scanning drawings and documents, you can save them on CDs, DVDs, USB sticks or Portable drives and even on Cloud for any situation. Make use of our bulk conversion facilities. Drawings in Melbourne are collected either through personalised courier or our team members themselves. All drawings are returned well tagged in electronic media.
Same Day Service for Drawings Pick up and drop in Melbourne
Save costs and time with SellCAD same day service for drawings pick up and drop. This may cost you as little as $15 Per trip. So why wait, if the drawings are ready, just call us and someone will be there for collection OR send us data file. We will scan, copy, print or convert and return.
We convert All Drawings, Images, Plans and on all types of media
Convert all drawings - Paper, Scanned, Old Ammonia Prints, Film, Posters, Pictures, Paper and other media, that include decades old forms. Keep your paper drawings current by scanning and effectively use them after digitising. SellCAD eases your drawing management, storage, retrieval, transfer, receipt and annotation.
Our services suit jobs of all sizes when quality and reliability is main criterion. We handle from one to hundreds of thousands drawings, all levels of confidentiality and are well priced.
By default all jobs are carried out at our Melbourne facilities. Drawings can be couriered or personally picked up and dropped.
Large jobs or those requiring extra confidentiality and care, however can be done at Customer Premises anywhere in Australia.
Secure Set up provided for Confidential Drawing Scan and Conversion jobs for Defence and Aerospace from 100's to1000's of drawings requiring complete digitisation, 2D-3D conversion or format changes can be outsourced overseas for highly cost effective conversion.
We are fully insured and offer unmatched confidentiality. Our services include Personal or Courier pick up and drop, by default conversion into image and PDF, Printed CDs/ DVDs or large job back up on portable drives, eraser from our systems after a job is over, secure destruction of documentation, if so required.
Transparent Costing, No Hidden Extras. Indicative Prices provided below. Large job prices quoted in consultation
Our services include:
Raster Scanning
Raster Scanning involves scanning a paper drawing into image. A paper drawing can be scanned into various forms such as:
Monochrome or Black and White Scan CAD Drawing - This means the digital image you get is Black and White. The image is usually provided in TIFF or JPG (JPEG) format. As a policy, we also provide a PDF Copy No Extra Charge Master Card, Visa and just 2% on American Express and Diners. The Monochrome Scan costs $16.50 for A0 Size Drawing, $11 for A1 Size or smaller Size Drawing Including GST. Cost of drawing collection and return is charged extra at actuals for smaller jobs. For large jobs, ask for special prices.
Colour Scan CAD Drawing - This means the digital image you get is Colour. The image is usually provided in JPG (JPEG) format. As a policy, we also provide a PDF Copy No Extra Charge Master Card, Visa and just 2% on American Express and Diners. The Colour Scan of CAD Drawing costs $27.50 for A0 Size Drawing, $19.50 for A1 Size or smaller Size Drawing Including GST. Cost of drawing collection and return is charged extra at actuals.
If you have a good print, you can have crystal clear image. Clarity of Scanned image varies with clarity of original drawing. Usually with time, drawings tend to fade or pale, therefore sooner you digitise them, better it would be. Prices drop for 10's, 100's or 1000's of drawings and cost of collection and delivery per drawing also goes down.
Convert to CAD
Once a drawing is converted, it can be automatically converted to a DWG or DXF (.dwg or .dxf file extension) file that can be read into AutoCAD. Automated digitisation involves scanning, cleaning and de-skewing a CAD drawing.
The result of this process is a file readable in AutoCAD. The lines are in One Layer while the Text in Editable format is in another layer. Clarity or this file however depends upon the original drawing and this may require further manual handling. The task may take one to few hours as it involves comparison of original and result drawing as well.
Usually, customers get basic or automated scan done as explained above. This costs them between $110 to $150 depending upon the drawing size. hereafter, they carry out the modifications themselves. Called full CAD Conversion, this further digitisation can also be done by us and is usually charged @$99 Per Hour Including GST. Depending upon clarity, a drawing may take from one hour to tens of hours to digitise and test.
For large number of drawings, specialist handling methods are applied including development of utilities to assist digitisation process, removal of clutter and manual verification of data. This improves accuracy of the result drawing and amortisation of development cost over multiple drawings.
Convert 2D to 3D
You can convert 2D Drawings to current 3D drawings, in any package from AutoCAD, Inventor, Solid Edge, Solid Works, IDEAS, CATIA or UNIGRAPHICS2D to 3D conversion is largely a manual process. It mandates both domain knowledge such as manufacturing, tooling, wing design and product knowledge such as CATIA, Microstation, AutoCAD, Inventor, Solid Edge or Solidworks. The tasks requires specialist resources and reasonable interaction with customer. It is similar to carrying out the task again as many customers do in-house.
Our advantage lies in arranging skilled resources from a wide range of technologies and domains for a task, that is for some time i.e. is Not Ongoing in nature. We are able to draw resources with any impact on the customer. Cost of 2d to 3D drawing conversion costs for a drawing may range from $110 to $3300 INC GST. Large number of tasks can be outsourced overseas as well.
This conversion requires us to use the Software that you use. Other than AutoCAD & Inventor, we will need this software from the customer. It can be used On-Site as well. When the requirement is reasonably large, we should be able to purchase the software.
Convert CAD Drawing Format or Package
Unlike 2D to 3D drawing conversion, Drawing format change between packages such as AutoCAD, Microstation, Inventor, Solid Edge, Solid Works, IDEAS, CATIA or UNIGRAPHICS is a manual cum automated process. You can convert or migrate drawings between CATIA, Microstation, AutoCAD, Inventor, Solid Edge or Solidworks or change format from say DWG to DWF. You can also convert DWG or DXF file into TIFF, JPG, PDF and similar formats.
However as with 2d to 3D drawing conversion, cost of this conversion need be specifically quoted. This may range from $A100 to $A3000 per drawing. Overseas processing is effective in cutting the costs up to 40% when more than 1000 drawings are processed in one go. This is because often overseas processing means hiring best of facilities due to confidentiality and security reasons and fact that QA is still done locally, before delivery.
Print, Plot, Copy Laminate or Bind
Drawing Printing and plotting outsourcing offers an excellent cost advantage in many ways. For smaller tasks, it obviates the need to maintain expensive printers while for larger tasks, it means professional handling of printing, saving you time, energy and hassle of standing by the printer or organising drawings.
We professionally print and plot your drawings, enlarge or reduce size if required, roll and fold them and distribute, as you would like to do. We also can laminate drawings to A0 Size. For your existing drawings, we can copy, resize, reduce or enlarge drawings. As with colour scan, we attempt match colours before delivery.
When the drawings are ready, we can bind them as well in A4 Size, if so required. Appropriately labelled, complete with your logo and colours, our produced drawings will unleash a new level of professionalism in your drawing office.
Drawing printing charges start from $33 for A0 Size line printing on normal paper and rise to $220 for printing on Artist canvas. Please call us for your specific requirements.