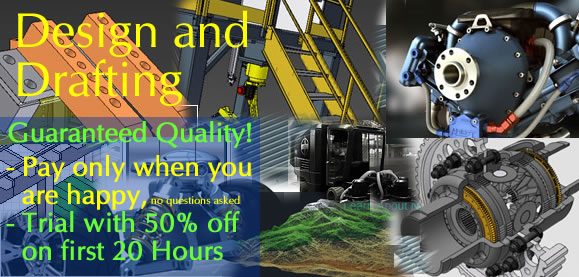 CAD Design & Drafting - Quick & Reliable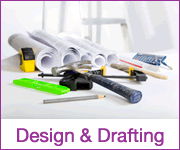 Quick and Reliable, Regular or last minute rush jobs of Modelling, Design, Drafting Services for Engineering, Architecture, Mining, defence, Onshore in Australia - Offshore option possible
SellCAD offers you quick and reliable onshore design and drafting facilities to meet the rush as well as on a regular basis. Most of our work is done in Australia for quick turnaround of high quality, reliable, ingenious and fail proof design. Our work covers Modelling, Design and drafting in main CAD packages such as AutoCAD, CATIA, Inventor, Microstation, Solid Edge, Solid Works. For drawings conversion including redfrafting, click here>>
Our design and drafting services or resources cater to small to large clients including Architecture, Automotive, Defence, Manufacturing, Mining in AutoCAD, Inventor, Solid Edge, Solidworks, CATIA, IDEAS, Unigraphics. Most of tasks are last minute rush jobs and CAD work requiring high level of design engineering and intellectual protection.
Our highly reliable and flexible Design & Drafting services are designed to suit your needs, short term or long term, On-site or our offices or Offshore in our centres or places chosen by you. We cover AutoCAD, LT, Inventor or Solid Edge, Revit we offer it all. For larger requirements, you can also ask for overseas processing.
Meet your regular ongoing requirements or once off. Competitive rates and reliable delivery.
No worries on competent staff retention or delivery issues.
Friendly vendor, no over commitment and well cut prices.
Complete responsibility of work.
Staff available for work in or related to Defence and Aircraft industry.
Our Services include:
We are quick and reliable.
For a limited period, we are offering a Free Trial offer with up to 10 Hours Free for any design or drafting tasks. You pay ONLY WHEN happy with our work. No questions asked.
Our terms are simple and clear. For trial, give us any work for estimation. When happy with estimation, place a purchase order with first 20 Hours discounted by 50%.
We deliver you the work. When you are happy, we raise Invoice. Otherwise, no questions asked and you simply cancel your order.
Sub-contracted Design & Drafting
SellCAD offers reliable Subcontracted Engineering and Architectural design and drafting services. We have a list of happy clients who often benefit from our expert services. They are especially of help when the requirement is sporadic is nature that does not justify hiring resources.
You can outsource design or drafting service. This can be done in our offices in AutoCAD & Inventor and in case of large regular requirements, any software such as Solid Edge, Solid Works, Revit, CATIA, IDEAS. We have resources with domain expertise in Manufacturing, Defence, Automobile and architecture. Resources in other areas can be arranged when requirement is sizable and on an ongoing basis.
The design services can start small and expand to cover entire design. We have capability to quickly adapt your quality and other practices for a seamless assimilation of drawings at your end.
While we offer to do a good job, we often come across obvious constrain in understanding and delivering to your requirements. Due to this, we look for smaller jobs to begin with and close interaction with your existing designers.
Sub-contractors for Design & Drafting
We often have a pool of drafting and design engineers in AutoCAD, Solid Edge, CATIA and other CAD platforms. Most of these professionals come to Australia through Skilled Migration program. Highly qualified and well endowed with experience, these contractors would have worked with us for some time, before we outsource them as Sub-contractors.
The subcontractors bring amazing skills and zeal to build their careers. Naturally, they are hardworking and deliver astounding performance. The resources are with at least 3 Years experience but usually between 4-10 years in leading edge design, Management, good grasp of practices and quick learner of local codes for Automobile, Architecture, Aircraft design.
Casual and Temp CAD Resources for Design and Drafting
We provide casual and temp CAD resources for design and drafting tasks. The assignments may vary from a few hours to a few weeks to enable you tide over crisis situations. The Resources are available for a variety of design and drafting packages such as AutoCAD, Inventor, CATIA, IDEAS, Solid Edge etc.
We always advise that Casual and temp resources do require a ramp up time even if they belong to the same industry. Therefore, we suggest a trial period much before you expect work. The trial period will assist you in formulating processes to assimilate casual resources and train them in your line of work.
Other than this, we have candidates with huge experience Australian Industry including Architecture, Aircraft, Defence, Manufacturing, Mining and others.
Please call us on 1300 289 223 or Email Orders@SellCAD.com.au for further information on CAD Design and Drafting.