We Offer low prices everyday on a huge range of Software, Hardware, Design & Drafting, Server & Network Installation Management & Service!
PriMus Bill of Quantities and Estimation Software for AutoCAD
Easy to use Software for Bill of Quantitative (BoQ) or Material (BoM), Estimation and Works Accounting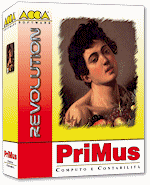 SellCAD brings you the best in Bill of Quantities (BoQ) or Material (BoM) software to ease estimation and work accounting , quotes and other commercial aspects of an engineering business. PriMus WYSIWYG interface eases your work. Its multi-platform applications, integrated data management, object technology make it highly interoperable amongst various applications.PriMus Features , WYSIWYG interface, Drag and Drop, Additional PriMus Modules, Worksite Requirement and Price Analysis , Electrical and Thermohydraulic Installations , PriMus DCF - Free Software
PriMus Overview
PriMus offers a complete integrated development and processing environment for estimating or project management documents. Updated with regulatory guidelines, it generates:
Bill of Quantities (BoQ) or Bill of Material (BoM) - forecasts, resulting costs, work variation surveys, final accounting, quantity estimates, requests for proposal, labour incidence estimate, etc);
Measurement book
Accounting Register
Cost Summary
Work Progress statement
Payment certificate
Steel reinforcement bars requirements book
Price lists
Comparison table for work variation surveys, comparison of work progress statements, comparison of multiple design assumptions or proposals, etc
Weekly lists of workers, equipment, and costs
Forms (completion of works, beginning of works, suspensions, resumptions, execution, etc.) history management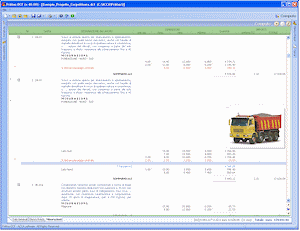 PriMus WYSIWYG Interface
Thanks to its WYSIWYG Interface, PriMus Revolution makes work easy as on a sheet of paper or a form, inserting descriptions and measurements. Quantities, Price Lists and Work Progress Statements are simply different views for one single compact file; any changes made within the document are automatically updated and aligned in all other views. You can drop images into estimates (see below - drag and drop features). General data, document structure (chapters, categories, etc.), forms, and documents, either they be already printed or yet to be printed, are directly linked to the document which users can display, consult, and change at any time.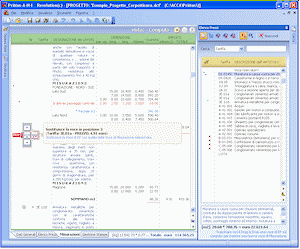 PriMus - Easy to use with Drag and Drop Features
The display is a virtual desk on which the user can open price lists, quantities, surveys and measurement books to view, insert, modify, or copy data from one place to another with simple Drag and Drop operations. Each file is virtually identical to the corresponding hardcopy.
With PriMus Revolution, users have free access to a vast database of Price Books for Regions, Chambers of Commerce and private publishers. Price lists can be opened directly over the Internet and available data can be copied via Drag and Drop. The PW-CONV technology, moreover, allows users to convert price lists to PWE, XPWE and DCF formats which are compatible with ACCA programs.
PriMus Features
ACTIVE DROP
Active Drop is an exclusive function of PriMus that allows dynamic control of data with Drag and Drop operations.
OBJECT TECHNOLOGY
PriMus Revolution is the first object driven Bill of Quantities program: the data input process is no longer a separate phase from document preview, but each document view can be used to input or edit data.
DOCUMENT PRINTING
PriMus has its own print manager that allows you to produce and customize all documents relating to a project. Each view can be printed, and previews can be worked on directly. You can also save in RTF, PDF, HTML, ASCII and DBF formats.
QUANTITY TAKE OFF FEATURES FROM A DRAWING
During the measurement input phase, PriMus uses an integrated module, PriMus for CAD, that allows the user to retrieve measurements from a drawing created with AutoCAD LT, AutoCAD, etc..; dimensions or block attributes can be transferred directly from the drawing to the Bill of Quantities document.
MERGE
The CompMERGE function allows the integration of different document versions that may have changed over time; CompDIFFERENCE highlights the differences or changes in the document during its creation, even by several operators.
MEASUREMENT AND LUMP SUM WORKS
PriMus manages measurement or lump sum mixed contracts and works in both the planning and project management and accounting phases.
SUPERWIZARD
The programs internal superWizard generates the accounting document, by directly accessing the project document that was previously drawn up with PriMus to retrieve all the necessary information.
SUBQUANTITIES
With the Subquantities function, construction site measurements reported in the book can also be recorded with direct reference to the bill of quantities; with automatic display of percentage increases in the rates for the various Work Categories.
WORK VARIATIONS SURVEY WIZARD
To re-align the current accounting document, Lump Sum or Measurement and Lump Sum contract types, PriMus has a unique feature: the Works Variation Wizard. Simply indicate the new rates for each work category to quickly adjust the accounting document to the Works Variation Survey.
Programs Involved and Modules
PriMus-P -Bill of Quantities and Estimate
bill of quantities and estimate for design and management of private works
integrated processing of: Bills of Quantities (forecasts, resulting costs, works variations, final accounts, etc..), Price Lists, Work Estimates,
Requests for proposals, Project forms, Comparison tables (even between additional bills of quantities)
both technology and interface are similar to PriMus Revolution
Additional PriMus Modules
PriMus-DCF
Creation and exchange, including online, of price lists and bills of quantities
PW-CONV
Conversion of various Databases (Price Lists, Bills of Quantities, etc.) in PWE, XPWE, and DCF formats compatible with ACCA programs
PriMus for CAD
Integration between forecasts and projects completed with AutoCAD and AutoCAD LT (versions 2000 - 2002 - 2004 - 2005 - 2006 - 2007 - 2008 - 2009 - 2010) or with progeCAD 2006
Additional PriMus and PriMus-P Modules
PriMus-A - Worksite Requirements and Price Analysis
creation of new prices through structured P.L. items and analyses whose price is composed of several elements
automatic composition of Worksite Requirements by quantitative identification of elementary items (materials, human resources, machinery, etc.) needed for the project
PriMus-iElectrical and Thermohydraulic Installations
estimation for electrical and thermohydraulic plants
importing of price lists in METEL format (standard format for electrical equipment producers) and ANGAISA format (standard format hydro-thermosanitary equipment producers)
System Requirements
Please note, these are minimum requirements and you may require a higher configuration to cater for all the programs that you host on this Computer:
Personal computer with Pentium IV Processor or higher
512 MB of system RAM
Microsoft Windows XP or Microsoft Windows VISTA operating systems
Hard Disk, Mouse with scroll wheel
Video Card with at least 64 MB of memory, 128 MB suggested
Internet Explorer 5.0 or higher
Optional - Windows compliant Sound Card
Optional - Windows compliant LAN network
For WEB based features: Internet connection